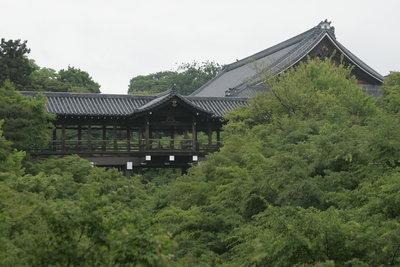 Bridge at Tofukuji
Tofukuji is one of the head Zen Buddhist temples. The name is a combination of two temples in Nara that influenced its building style:
Todaiji
and
Kofukuji
. I was actually rather disappointed by this temple. If you want to walk over the bridge that is visible from the covered bridge approaching Tofukuji, you need to pay for admission to the garden. There is not much garden, however. For another 500 yen you can see the abbot's quarters, which include a small rock garden. After being disappointed by the garden, I really didn't feel like paying another admission, although the abbot's rock garden is probably more easily photographed than
Ryouanji's
. It may be an important temple, but as a tourist, this is a pass.
If you are planning to go to Tofukuji, the Reiunin subtemple has a nice garden. The garden is small, but very picturesque; I have more interesting pictures of it than of Tofukuji. The central interest of the garden is an
iaiseki
, a stone representing Buddha's mountain. I wasn't aware there was a mountain in Buddhism, but the stone is one of the most interesting stones I have ever seen. Reiunin is also an inexpensive temple.
Website:
http://www.tofukuji.jp/
| | |
| --- | --- |
| Valley below Tofukuji's bridge | Garden in Tofukuji |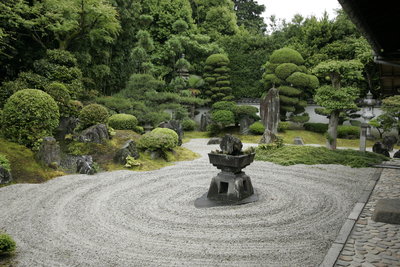 Garden at Reiunin subtemple