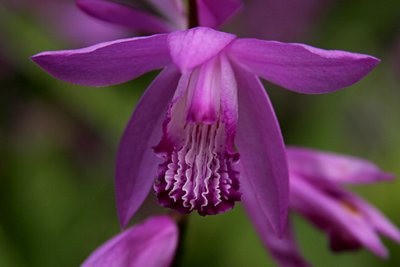 Flower in the bamboo garden
A five minute walk to the west of Himeji Castle is a garden composed of 12 gardens of different styles in the old samurai quarters. The gardens are not extraordinary, but definitely very nice, and if you get the combined ticket for the gardens and the castle, they are inexpensive, as well. The variety of the gardens was nice: there was a traditional Japanese garden, a summer garden, a pine-tree garden, a tea house garden, a bamboo garden (I didn't know there were 12 types of bamboo) and a garden meant to invoke the countryside. This was actually my favorite, because the grass and wide, shallow stream evoke the countryside, but are arranged in such a way that the small area looks both beautiful and spacious.
To reach the garden, exit the castle grounds. After you cross the bridge over the moat, turn right (west), and continue along the edge of the grounds for about 3 - 5 minutes. The entrance is on the right.
| | |
| --- | --- |
| Countryside garden | The lord's garden |