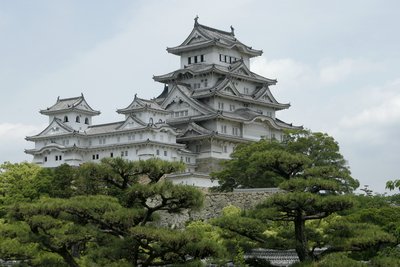 Himeji Castle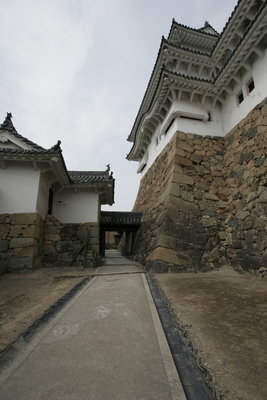 Path leading to the castle
Himeji Castle is Japan's largest and best-preserved castle. The castle grounds are enormous, and the path winds around in an upward but most random sort of way (designed to lead attackers to dead ends and be exposed to fire along the path), but there is plenty to see. Once inside, turning left after the first gate leads one into the guardhouse along the western perimeter. The end of this guardhouse is the tower built for the wife of one of the owners; in an emotionally cold, battle-ready fortress, it was the one place fit for a princess.
The grounds have some wells, some bullet-proof mud walls, huge foundation stones, and other interesting items. The castle itself is the original built in 1601, and it is huge. You would literally have to have an army living there or the place would feel empty. It kind of felt empty even with a bunch of tourists traipsing through it. The stairs are really steep (as are most traditional Japanese stairs), and it looked like some of them originally had no hand rails! At the very top is a nice panoramic view of Himeji, and a shrine. All the information signs are in Japanese, Korean, and English, so it is educational as well as gigantic.
Himeji is 90 minutes away from Kyoto station by JR and 60 minutes from JR Osaka-Umeda station; be sure to take the
shin-kaisoku
(direct rapid) train. A 1 day JR-West rail pass is a good buy (assuming you do not have other plans for the one rail pass you can purchase). The approach to Himeji castle from the JR station is from the south, and the best views of the castle are on the western side, so afternoon or evening is probably the best time to visit for photography.
You can take a virtual tour of the castle at the Himeji Castle's
web site
.
| | |
| --- | --- |
| The ceiling | The armory |