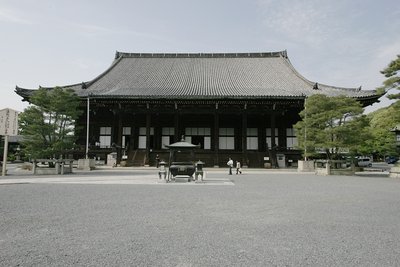 The main temple
Chion-in is the head temple of the Pure Land Sect of Japanese Buddhism, which holds that those who chant "Namu Amida Butsu" ("I take refuge in Amida") will be reborn into Amida's Pure Land. It is a large and functioning temple; you can hear priests chanting at regular intervals.
The temple grounds are free, but there is a small garden for which admission is charged. Chion-in can be accessed through the large gate (the largest such gate), or through the back via the mountain trail. I believe that Chion-in is also known for its large bell, rung 101 times at the New Year, although I have not been able to find any references to it.
Chionin's
English website
is gives additional pictures and information on Pure Land Buddhism.
| | |
| --- | --- |
| Worshippers inside the temple | Back side of the temple |