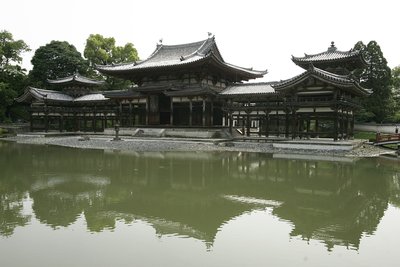 The main Phoenix hall
Byoudou-in was built in 998 as a rural villa, and later converted to a Buddhist temple. This is one of the most famous temples in Japan, and is pictured on the back of the 10 yen coin. The temple grounds are fairly small, being mostly large enough to house the main Phoenix Hall. Admission grants entrance to the grounds and the underground museum; for an additional fee you can see the statues and paintings inside the Phoenix Hall. The Hall faces east, so best photography will probably be in the morning.
Uji is about 30 minutes from Kyoto by rail, and can be reached via the JR Nara line (handy if you are in Arashiyama, central Kyoto, or near the Fushimi Inari shrine), or by the Keihan line if you are in eastern Kyoto.