My teammates
Andy, worshiping during the Sunday service.
My translator, Raul.
He was a great ministry partner.
Andy
My teammate Andy was about 21 and studying to be a foreman of electricians. He was raised in a Christian family, but had really only seriously come to Christ the previous year. He had been helping out with the children's ministry at his church, and he was great with the kids. He managed to have a lot of fun with them without being able to speak any Spanish. He is quite the extrovert, but also thorough in thought (he is a big fan of John MacArthur), and we got along very well together.
Raul, Fernando
Raul and Fernando were our translators. Raul was my translator, and has been on many e3 trips. As a result, he was really more of a ministry partner than a translator—he would sometimes add explanations or answer questions without going through the translation, and I could pick up enough to tell he was giving a pretty good explanation. He was studying computer science at the university in Santa Cruz, but unlike most CS types, he has a bit of a crazy streak. He's also a good guitar player and an aspiring singer.
Fernando was Andy's translator, and although it was his first time with e3, he was definitely a strong Christian. His parents moved from Brazil to Bolivia to be missionaries, but Fernando missed Brazil. Fernando is particularly fond of music. He is also really close with his sister, Tais, who was a translator for one of the other North Americans on the team.
The greatest thing about working with Andy, Raul, and Fernando was that we all had the same values and passions regarding the ministry. We desired to see the same things happen, and we were concerned with similar barriers to the ministry. We varied in Christian maturity, as is natural, but there was a rather high minimum level of maturity, which made it easy to serve together, because we had similar values.
Pastora Nayara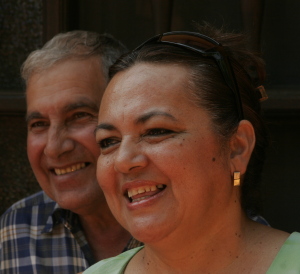 Pastora Nayara and her husband
Pastora Nayara was the pastor of Iglesia de el Salvadore de Villa Corina. Her husband is a cattle farmer, employing about 15 people in land 30 minutes and 45 minutes away from Trinidad by plane, so she pastors the church. Much of her time is spent counseling people from the church, and aiding church members in need. After one of the evening meetings, she took us to one the home of some of the kids at the church, whose father was going to Santa Cruz for urgent surgery, leaving no one at home, so we made a makeshift door to their yard by tipping over a bookshelf.
We were a bit frustrated that Pastora Nayara seemed unwilling to come evangelizing with us, because if she did not catch the vision, neither would her flock. It was a little frustrating that she felt that supervising her servant to make lunch for us was more important than telling people about Jesus (although the lunches were some of the best I have ever had! We were definitely
very
well-hosted!) She did come out with us one day, fortunately on the one day that Ky, a more experienced member of the larger team, joined us. I think she definitely was affected by seeing how God used him. And she was also eager to receive the list of contacts that we collected over the week.
The church unfortunately had kind of a bad reputation in the village due to the previous pastor. Pastor Nayara was trying to change that, but many of the residents still had bad memories, and most of the Christians we met in the village were going to a different church nearby. From an outside perspective, one of the barriers that the church faces is that it is probably seen as a rich church. When Pastora Nayara's husband drove us to the church the first day, I was shocked at how nice the door was (it was solid wood and varnished, quite unlike anything else I had seen in Bolivia up until then. It would have been a particularly nice door even in the U.S.). Inside was equally as nice, with clean, new tile, and a nice coat of paint. Most of the congregation does not live in the area, and the church seems relatively inward focused—growing existing Christians. There is plenty of need in the few blocks surrounding the church, and I expect that the church could tangibly live out God's character by caring for the needs of the people nearby. The three elderly people we met could not walk the two blocks to church because of bad knees. One woman faced injustice by a member (hopefully former) of the church. Most were pretty poor.
The church kind of typified the economic divide in Bolivia, actually. The church is fairly rich, yet placed in an impoverished neighborhood. Most members, including the pastor, commute from richer areas. From the outside, it is easy to see how this church, whose pastor is rich enough to have a servant, would not resonate with the community. Still, Pastora Nayara definitely has a concern for her flock, and spends a lot of time counsellings people and helping those in need. Iglesia de el Salvadore is well pastored, by a woman who is concerned for God's kingdom.
Members of Iglesia de el Salvadore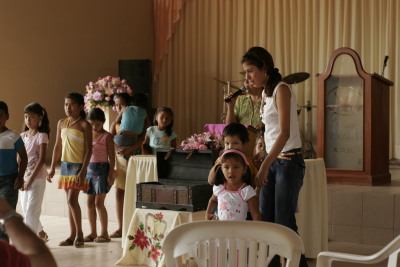 Children's worship at Iglesia de el Salvadore.
(Vanessa is on the right)
Several of the church members stand out in my memory. Maria and her husband are the clearest. Maria is a lovely young woman, quiet but friendly, full of joy, and eager to tell others about God. She came with us every day (she went with Andy). She also tried really hard to get to know us, and I felt kind of bad because I could only pull of enough Spanish to roughly convey very simple things, but the rest of my team was often talking amongst ourselves. Maria also hosted us at her mother-in-laws place for a delicious tea in the afternoons. Her husband only was able to come with us on Saturday, because he was working the other days, but I could tell from the way he talked and from peoples' reactions that he explained things really well. The two of them were originally hard-drinking non-Christians. Maria went to Spain and through her cousin's influence found Christ and when she returned, her husband (probably fiance at the time) came to Christ, too. They were definitely seeking God's kingdom, and I expect that God can do great things through them.
Tatina (pronounced TaTIna) was a matronly woman who was one of the most willing to talk to people. She seemed really effective at building rapport with people. I believe that she helped out with the children's program, and she also taught Sunday School the time we were there. She may have been a single mother, so she was only able to come with us two of the days, but I think she probably was able to get some good experience. I think God can definitely use her friendliness and concern for people to great effect in the community.
The third church member I most remember is Vanessa, who I believe is just starting university this year (she might have also taken a couple year break, those details are a little fuzzy). She and Maria were the two gals with us on the first day, and Pastora Nayara made of point of mentioning that Vanessa was single. Kind of embarrassing... Vanessa is somewhat shy, but also appreciative and observant: she made cards for Andy and I, thanking us for various aspects of our characters. I was really impressed with some of the things she noticed. I think she came with me for three of the days, and I saw her gain confidence in using the evangecube over time.